Ambry Equipment
Manufacturer and Supplier of initial attack firefighting tools.  When fires are small, every second is critical for extinguishing the fire.  Initial attacking a fire requires firefighters to be aggressive but at the same provide for safety first.  That means that they are completely aware of there situation, LCES (a Plan), and they are going to fight fire with the best tools on the market to accomplish the job.
You want your firefighters to have every advantage to put the fire out.  Invest in your in your firefighters with tools that make them more efficient in protecting the community.  Ambry Equipment Specializes in initial attack tools.
Synergistic-various parts are working together to produce an enhanced result.  "more than the sum of its parts."
-Vocabulary.com-
What makes an initial attack tool? a tool that in a synergistic manner increases firefighters ability while fighting fire to increase speed, safety, and comfort  while fighting fire.  Ambry Equipment provides gear inspired and designed by firefighters.
Invest In Initial Attack Gear Your Community Expects it.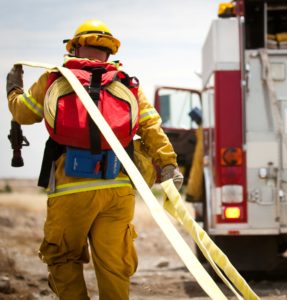 Rapid initial attack is key to fighting wildland fire.  That is why Ambry Equipment  specializes in manufacturing and offering gear designed for rapid initial attack.
SMOKEY PACK 1080 from Masa Boy Films on Vimeo.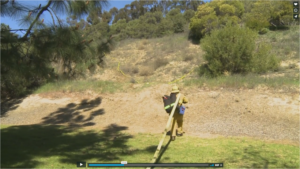 Initial Attack – Rapid Action, show of force, a plan, and the abiity to extinguish fire.
Initial attack – The actions taken by the first resources to arrive at a wildfire to protect lives and property, and prevent further extension of the fire. Usually done by trained and experienced crews and takes place immediately after size-up. Definition from Wikipedia Glossary of Wildfire Terms 
Fight Fire Aggressively with Ambry Equipment.  Provide for your firefighters safety before they are called to a fire with proper training, ppes and right initial attack tools made for the job.   Initial attack tools are needed during the most challenging fire conditions.
Actual on the job performance is the reason why Ambry Equipment Hose Packs are in high demand. They are intuitive use products, durable, and comfortable.
Well trained fire fighters get out of the fire engine, get tools, and throw on a hosepack.  If the department uses Ambry Equipment Packs, the firefighters will be ready for initial attack when the nozzleman calls for water and starts charging the fire.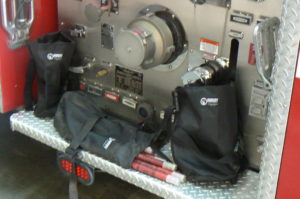 Ambry Equipment initial attack products are in high demand because they work.  These are word of mouth products.  When firefighters talk about initial attack gear they talk about Ambry Equipment.
Anchor, Flank, and Pinch
Ambry Equipment makes products that are initial attack tested and proven by firefighters. The MVP hosepack meets the initial attack standard and continues to be highly regarded by other fire departments.  Large and small department across the county use Ambry Equipment gear.  See a list of fire departments.  When these fire departments show up to a fire they anchor, flank, and pinch.  Next is everyone's favorite thing – MOP UP!
Ambry Equipment offers products designed for speed, safety, durability, and comfort.  Actual hands on Initial attack firefighting experience from the founder of Ambry Equipment is what lead him to develop and design products for initial attack.  He experienced first hand what it is like to fight fire with the wrong tools for the job.   After experiencing frustration after frustration on fires because of gear that was not adequate for the job, he decided to design gear for initial attack fires.  The MVP Hose Pack was the first product he invented for initial attack.  It is one of the best selling hosepacks in the industry.
One Foot in the Black
When you show up to a fire with Ambry Equipment Gear you're confident that other fire departments will know you and your firefighters are serious and dedicated to fire fighting.  other departments will know that you are trained, physically and mentally able to do the job, and have the experience needed because long before you and your firefighters show up to a fire you did your homework selecting the right tools and preparing your firefighters before they even leave the fire station to fight fire.
Imagine you and your fire fighters charging up slope laying the main hoselay to the toe of the fire and set the anchor point.  You look back to see who is coming to support the hoselay and the other department is scrambling around the engine still trying to figure out what to take to support the hoselay.  You look over at your firefighters who are ready and eager to put this fire out and they are wondering why you are holding them up.  You of course take the active flank of the fire.  You start up the steep, hot, and smokey edge by spraying water and extending the hoselay up slope.  Even though you already covered all the safety stuff at the engine, you hear one of your fire fighters shout out one foot in the black, another yells LCES, and you keep progressing on that hot smokey fire.  Thanks to you and your firefighters the other departments catch up right when you hook this fire and pinch the head of the fire out.
"I'm a Great Believer in Luck. The Harder I Work, the More Luck I Have"
-Thomas Jefferson-
The fire's out and everybody is giving high fives and patting each other on the back.  You hear some of the other firefighters say "we got lucky on this one…if the winds were to pickup or if the humidity was just a bit lower or if"….fill in the blank… to being lucky.  You know this fire is out because you and your firefighters are well trained, the department invested in the firefighters success by purchasing tested initial attack gear, and sure there was some luck.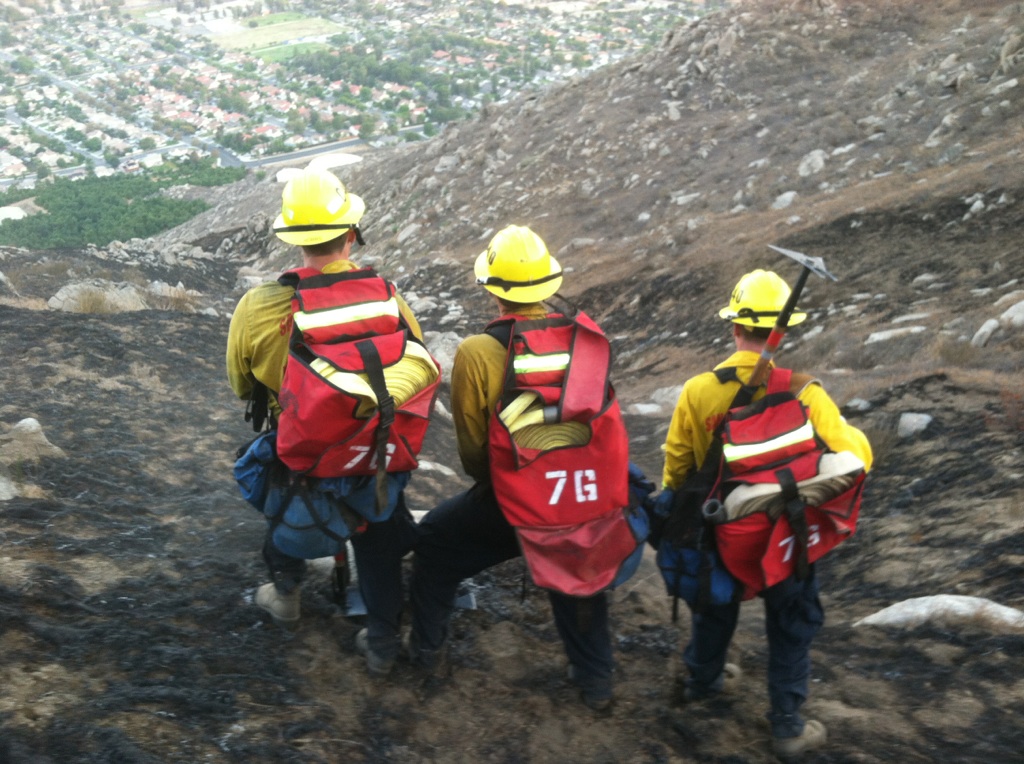 Are Your Ready for Fire Season?  Call Today 909-553-8646
Call 909-553-8646 for information and questions.  Go to Ambry Equipment Product Line.  Click this link to Purchase Product