First on the Scene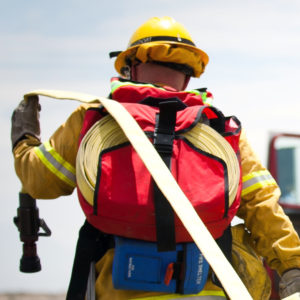 One of the most exciting, intense, and overwhelming things that most Captains or Modular Leaders will do in their careers is to be first on the scene. Imagine yourself in the action. The radios buzzing, helicopters are lifting off, and the fire column is building. Its your area of response and you will be "First on Scene". This is what you trained for you better be ready. It's time for a hose lay!
A Quality Hose Lay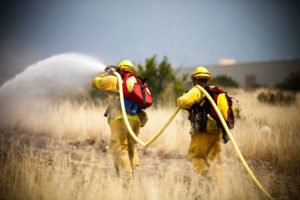 A quality hose lay is more than just running up the hill and squirting some water on the ground.
The Size Up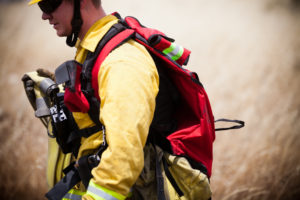 Be prepared to tell your crew what the heck the fire is doing, where it's going, and what it will do. (LCES)
The Tools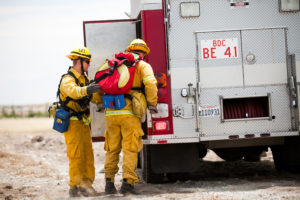 Gear UP! Your firefighters wait on your every word they jump out before you finish your sentence. They put on their PPE's, grab hose hardware, and throw on an MVP hose pack. Your glad the department invested in the fire fighters with quality gear.
The Briefing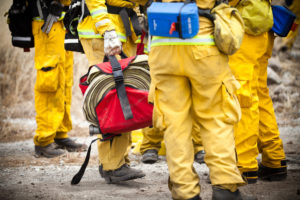 Alright circle up! Down and dirty. No more than a minute because time is your friend at this point in the fire. Your crew is on point and the hose lay is ready. Before you commit to chasing down the fire. Your crew needs to know who is the lookout, radio frequencies, escape routes, and safety zones.
Keep One Foot in the Black


The hose lay. Lucky! you have water. As you progress, spray water and cool the fire out, extend the lay by clamping the hose, effortlessly remove a section of hose from the MVP hose pack, every 200′ install a tee or a gated wye in the event you get a spot fire. Repeat the process until the fire is out.
Anchor, Flank, and Pinch.
Anchor as you progress your hose lay. You will anchor in usually at a road. Without a solid anchor point forget about starting a hose lay.
Flank most fires have two sides the active side and the non active. The active side is the obvious choice. By flanking the active side you stop the fire from spreading out and getting bigger.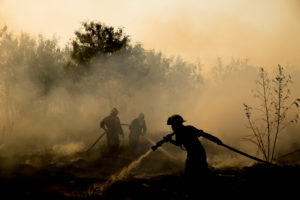 Pinch the head of the fire this stops the fire from going up hill and getting bigger. By this time other crew anchored in on the on active side and are at the head with you.
Mop Up
Put the fire out, and go home.
For quality Hose Packs made in the USA visit www.AmbryEquipment.com.